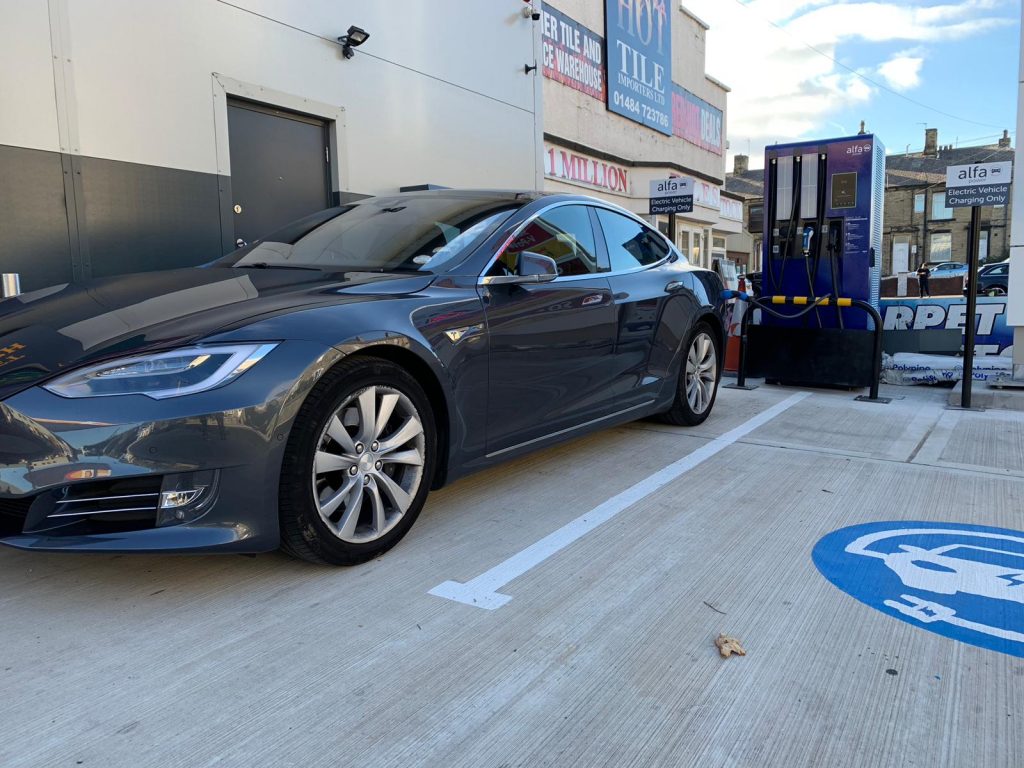 UK's first 60kW rapid charge point available to all EV drivers
For the first time ever, all UK EV drivers can enjoy the fastest rapid public charging options, powered by renewable energy, with the installation of our new 60kW agnostic charger at Crown Service Station, Brighouse (pictured below). The charging point is ready for use and the first of its type to be compatible with all models of electric vehicle.
Director, Alex Hinchcliffe, expresses the company's excitement, "We are proud and delighted to have installed the first commercial rapid charger accessible to any EV driver with specifications over and above the 50kW benchmark."
The new charging point is situated next to the M62, one of the busiest and most heavily populated motorways in the UK, which acts as a coast to coast connection for the major cities of Liverpool, Manchester, Leeds and Hull. The area including the roundabout connected to Crown Service Station constitutes some of the poorest air quality in the UK, with significant thoroughfares such as this continuing to raise deep concerns about air pollution at a local and national level; Public Health England considers air quality to be the biggest environmental threat to UK public health.
At Alfa Power, we are acutely aware that vehicle emissions exacerbate this problem and have strategically placed our newest charging unit with this in mind. As the UK government works towards a 2040 target for ending the sale of new petrol and diesel vehicles, the installation of our latest rapid charging point on a route with heavy traffic flow endeavours to supply green, convenient charging solutions which meet the demands of EV motorists in a modern world.
Commenting on the opening of the charger, Dr Nina Skorupska CBE FEI, Chief Executive of the Renewable Energy Association said:
"It's excellent to see this publicly accessible rapid charging infrastructure opening in the UK, hot on the heels of the Government's successful Zero Emissions Vehicle Summit. We support the Government's aim of being a global leader in EVs and other low-carbon transport technologies and the development of a reliable and accessible charging infrastructure network is central to that. Home and workplace charging will play their role but we cannot forget that strategic rapid charging infrastructure is crucial in giving the public confidence that they can quickly fuel up when it's needed most."
Customers can be confident that the new charging point has specifications which more than fulfil the needs of their latest EV vehicle; it is capable not only of 60kW charging but also of simultaneously charging up to four vehicles via several connectors, namely CCS (European Combined Charging System), Type 2 (European AC charger) and CHAdeMO (quick charging method). What is more, we aim to continually upgrade our charging points to ensure that the needs of the UK's growing EV market are fully met, with next steps set to include the installation of 100kW chargers at sites between major cities across the UK and beyond.